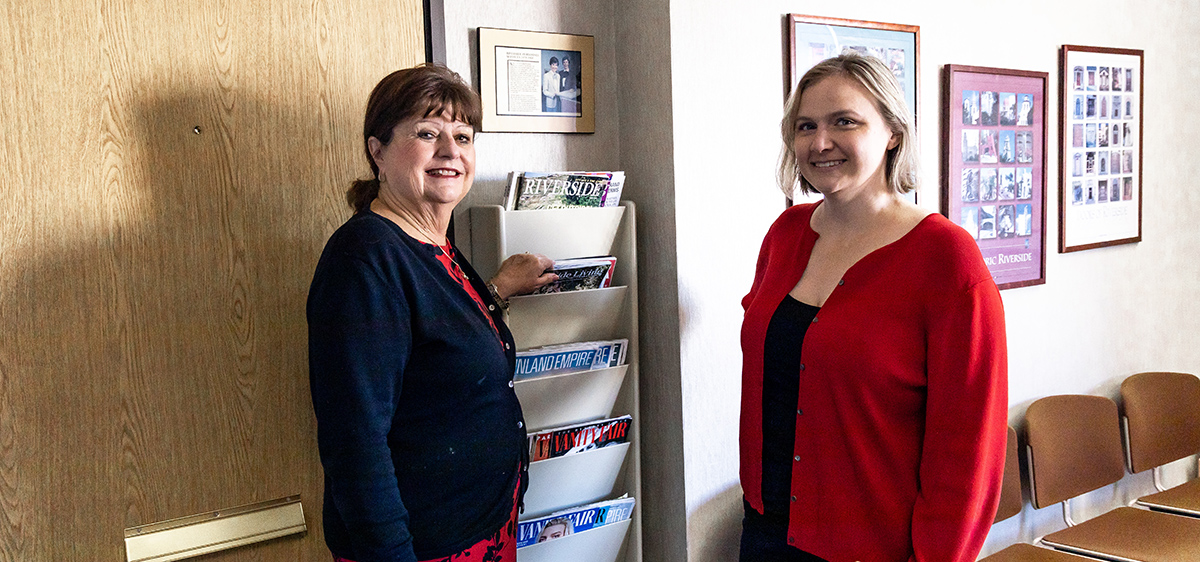 Co-Founder, CEO, CPC1, started RIVERSIDE PERSONNEL SERVICES, INC (RPS) in 1978 with Zee Beard. Sue grew up in Ohio and spent three years at Miami University in Oxford, Ohio, pursuing a degree in Education. Her move to California in 1975 re-kindled her entrepreneurial spirit – resulting in Riverside Personnel. In 1988, Sue received her degree in Business Administration from the University of Redlands. Sue is responsible for the long-range planning, staff training and the marketing at RPS. Sue has served on many boards over the past 44 years, but her current passion is consulting for non-profit organizations to help them become more effective fundraisers. During her spare time Sue enjoys reading, foreign and Indie films, kayaking, collecting art and rocks and photography. Follow the links to see Sue's many community involvements and awards, our photo gallery, and her resume. In 2013, Sue took a 52 week art sabbatical that resulted in a three month exhibition called "52" at the Riverside Art Museum. www.suemitchellart.com, Press Enterprise, Riverside Magazine, KCET and YouTube.
Zee was taken aback when asked to update her profile. There have been many "updates" over the past FOUR decades. As a co-founder of RPS she is astonished at evolving from a hands-on daily operations position to an advisory/strategic planning role. Still remembering the first phone call she took on opening day in 1978, to the first "cold calls" she made in efforts to get companies to become clients, to the first applicant she interviewed (just as scary as the first cold call), to the first placement she ever made (so thrilling), to finally being able to hire and TRAIN employees to carry on the foundational work she and Sue worked so hard to build, to the stress and challenges brought on by economic forces beyond their control, to the rewards and challenges of becoming active in the community via various civic and non-profit boards (Monday Morning Group, Kiwanis Club, Mary S. Roberts Pet Adoption Center, Vestry of All Saints Episcopal Church). Zee is so proud of what RPS stands for in the Riverside community thanks to its long held commitment to quality of service and to the team who carries it on.
President/CEO, CPC1, has been with Riverside Personnel since 1982. Kathy oversees the daily operations of the temp, temp to hire and regular placement divisions. Kathy holds a degree in Business Administration and Political Science from Loyola Marymount University and a Masters from CBU in Riverside. She is active in a number of professional organizations where she has served as President for most. Follow these links to see Kathy's many community involvements and awards, click here to see pictures of Kathy throughout the years at RPS or to learn more about Kathy's 2005 YWCA Women Of Achievement Award, read the Press Enterprise release. Spending time with Frank, her husband, is very important and a great deal of their focus is involvement with their children and grandchildren's school and sporting activities. Kathy's focus has been on giving back to the great community we all live in and in her spare time, she enjoys traveling and gardening. Kathy considers herself to be a very lucky person so she is not afraid to try her luck at a casino now and then. When Kathy celebrated her 30th Anniversary with Riverside Personnel Services she was promoted to President/CEO! You can read all about this well deserved promotion in the Greater Riverside Chambers Of Commerce article! Kathy will celebrate her 40th anniversary in 2022!
CSP2, Senior Staffing Supervisor, joined RPS in 2003 after working as a District Manager in the retail industry for eight years. For Catina, placing employees is a joy because she is improving the lives of employees and employers. Our clients and applicants enjoy Catina's can-do attitude so at RPS we fondly refer to her as our "Office Cheerleader"! Take a minute to connect with Catina on LinkedIn and add her to your network!
CSP2,Staffing Supervisor, has been with Riverside Personnel since 2012. Magen received a BA in Business Administration from CSU San Bernardino and a MBA from University of Phoenix. Magen appreciates the focus RPS places on finding a great fit for both our Clients and Applicants. When she is not working, you can find Magen supporting her daughters entrepreneurial dreams, listening to music, or watching movies.
Call Her Megan #2 or best known in the office as "Mae"Ruiz. Mae has joined Riverside Personnel in 2021 as our Front Desk Coordinator. She sure does love school and has earned 4 associate degrees, a BA in Business Administration with a concentration in Human Resources and is now pursuing her Master's degree in Communication Studies. Mae really wants to pursue career development and says she hit the "jackpot" learning and working here at RPS. She is always on the go and can be found at a concert, playing soccer, or catching a plane for a traveling adventure when she's not working. This bumblebee lover has a great passion for photography, music, cooking, hiking, and singing. She's non-stop but always enthusiastic to learn!
1 – Certified Placement Consultant
2 – California Staffing Professional