Employee of the Quarter/ Temp of the Year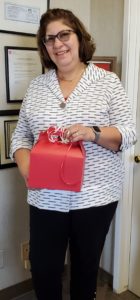 Quarterly, our team gets together to discuss the performance of our wonderful temporary employees. The goal of this meeting is to select the winner of our "Employee of the Quarter" and "Temp of the Year". The following criteria is used when making our decision:
Your willingness to accept temporary assignments
Attendance
Compliance to Riverside Personnel's Policies and Procedures
Good reviews received from assignments
Once selected, you receive an award and special prize from Riverside Personnel! We will also take your photo (with your permission of course) for our website!